The Internet of Things (IoT) is all around us. With over 15 billion IoT devices in the world, the possibilities of how to use these devices—and the data they generate—are endless. Yet most people are still unsure of how IoT can benefit their business. How can you leverage the power of IoT devices and tie it into your existing business systems?
In this webinar, we'll show you how Novacura Flow helps you easily connect IFS Applications to any IoT device. This can help you:
Integrate your automated equipment with IFS Asset Management.
Generate actionable insight from your IoT data.
Alert users to key business events with push notifications.
Digitalize your mobile workforce on and off-site.
Presenter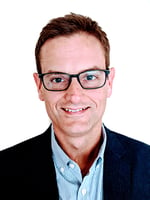 Greg Warner is the CTO of Novacura.