Flow 6.7 is here!
In this newest update, you'll find new tools to help you manage your data, customize portlets, and connect everything to everything else. We've also started the journey of developing application packages. Read on for all the details!
NEW: Application Packages (beta)
The ability to build best practice, off the shelf, Flow applications is something we've been working on for a long time. We're thrilled to announce that, as part of Flow 6.7, we're releasing the first beta version of Application Packages, which also is the first step towards having full support for standard applications.
With this first version of Application Packages, you can define and export application packages from any environment. These packages can then be imported in another environment and can also be modified in the importing environment. You can include the following items in a package:
menus
workflows
connectors
properties
roles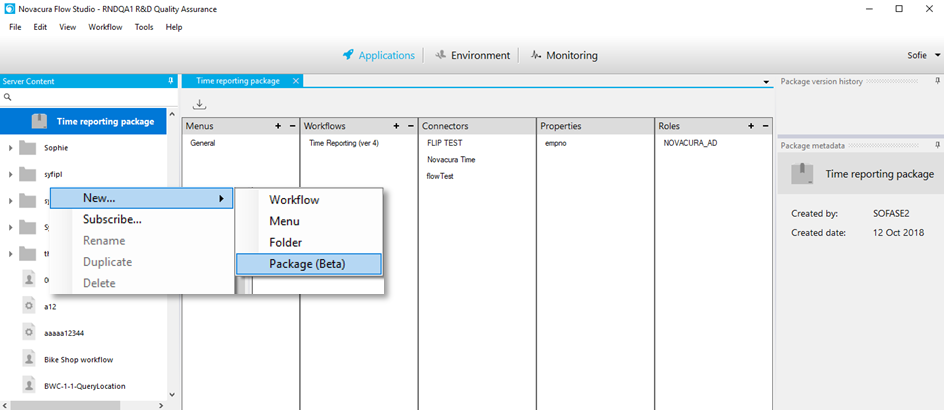 Later, it will be possible to also include Portal elements (like Portlets). Try it and let us know how it works for you!


Updates to the Map Portlet
The map portlet was added in Flow 6.6. In 6.7, we've refined the portlet and added some new features.
Overlay Maps
The new overlay map function makes it possible for you to put additional maps on top of the base map. You can use overlay maps however you want: to visualize service areas, geographic regions or something completely different. You can fetch overlay maps from pretty much any source: the only requirement right now is that the overlay map must be in a GeoJSON format.
Custom Point Markers
We've added customization to the point markers in the map portlet. Now you can configure both to color and icon of each point marker, either statically or with configuration rules.
Drag and Drop
In addition to the custom markers, we've added drag-and-drop functionality to the map portlet. This means you can create new map markers by dragging the marker icon from the legend into the map. This action will trigger a workflow to handle the creation of the new item.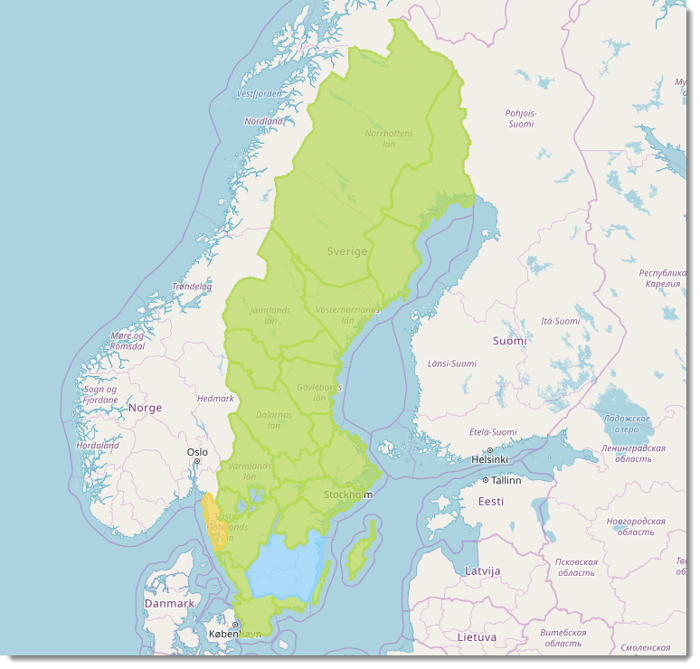 Updates to Data Grids
For a long time, you've been asking for the ability to select rows in a data grid in a workflow. Well: now you can! We've added a new feature called "row selection mode". Here you can decide if it should be possible to select one, many or no rows in a grid. For now, row selection mode works in the web, iOS, Android and Win10 clients.
We've also added the option to add all columns to a data grid on a user step. Up until now, anyone adding a data grid to a user step in a workflow was forced to add every column manually. Now you have the option to add all columns from the dataset automatically, which makes creating a data grid much easier.
Image Sizing in Workflows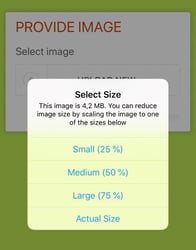 Using a lot of images in a workflow is great, but it's also a lot of data to process (especially if you're working offline or with large workflows). So to help with this, we've added the option to decrease the size of attached images. You have two options for file sizing: the user can choose the image size when the image is attached to the workflow, or you can set a default image size in the file gallery configuration. Image resizing works in the Android, iOS and Win10 clients.
Improved Data Handling and Storage
We're always working to improve the way large data sets are handled on mobile devices. In Flow 6.7, we've made a big update with regards to data handling and storage. This change should make data-heavy workflows run much faster. In workflows with five to ten thousand of rows in a data set, the processing time is down with at least a factor of ten.
How data is stored on the client is now automatically handled by the Flow Client. All new workflows will automatically use the new type of data storage. If you want to enable this new type of storage in existing workflows, simply uncheck the "Use Legacy Table" under Workflow/Runtime Options in Flow Studio.
SAP .Net Connector
The SAP .Net Connector is a new connector that uses SAP's .Net objects to access the SAP BAPIs. This new connector provides a significant improvement in performance using the .Net objects. This technology is also supported by SAP, which of course is another advantage.
Login with OpenID Connect
In Flow 6.7, we've added support to login using OpenID Connect. OpenID Connect 1.0 is an identity layer on top of the OAuth 2.0 protocol. It allows clients to verify the identity of the end user based on the authentication performed by an Authorization Server, as well as to get basic profile information about the end user.
We hope you enjoy Flow 6.7! And, as always, if there's anything you'd like to see added to Flow, please let us know.