My overall goal is to inspire. Inspire colleagues to do better, inspire customers to improve and always ask the tough and (sometimes) uncomfortable questions. And one technique I have found to work really well is the one developed by Sakichi Toyoda (Used in Lean, Kaizen Six Sigma etc.): root cause analysis with 5 "whys". It can work both in customer/end-user cases as well on development/steering level. Because you always need to think a bit further before you jump to conclusion and solution.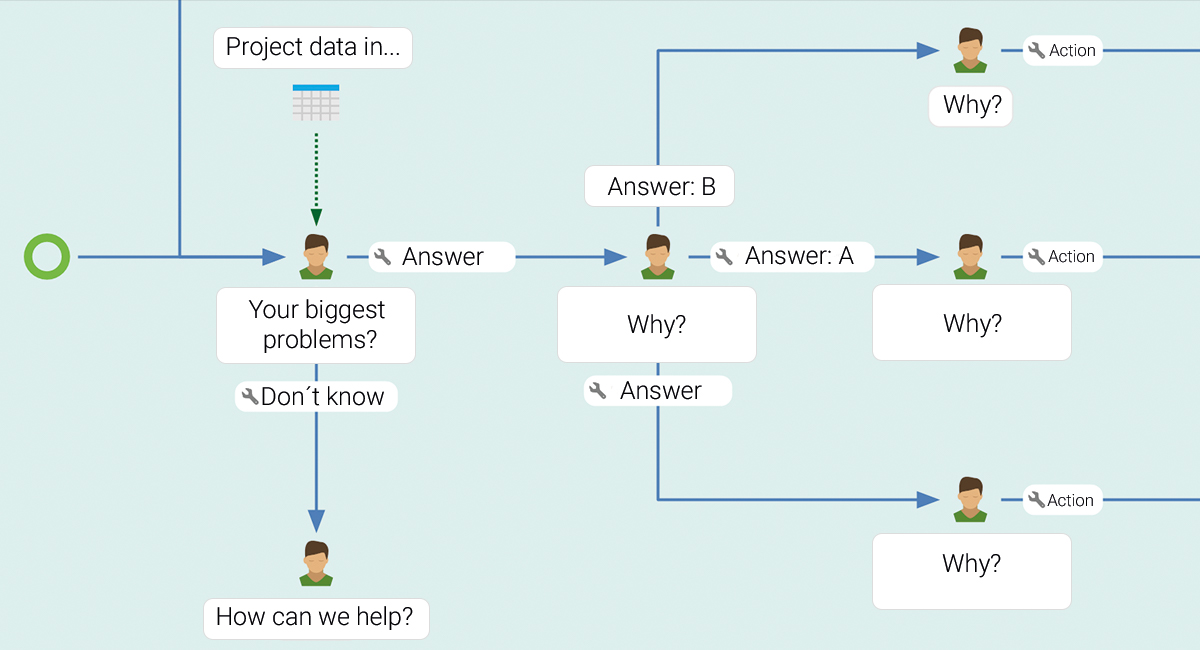 Here's what it might look like:
Andreas: "So, where would you say you have your biggest problems today, internally or for you customers?"
Customer X: "We have slow response times towards our customers"
Andreas: "Why?"
Customer X: "The ERP system is too slow?"
Andreas: "Why?"
Customer X" Because the users cannot complete their order registration and send the confirmation faster."
Andreas "Why?"
Customer X: " The registration of standard orders takes too much time in the ERP System"
Andreas: " Why?"
Customer X: " Because they don't know where to press and what reports to print before sending it. They take up to 15 minutes on each order to find the correct alternative in all lists"
Andreas: "Why?
Customer X " The whole customized module of the order registration was developed 20 years ago. Almost everyone from that department has ended their employment the past years and nothing was documented."
Sometimes it's not just about digging deeper into a root cause, it's also about gaining proper vision of how to attack a problem. In this example the problem was mostly directed to the process itself. So we learned that it's the standard order registration that's causing communication delays with the customers.

My experience is that the IT infrastructure performance is only part of the problem but it is probably the most(first) blamed part of the solution. Yes, it's crucial. But if the user-friendliness, documentation and education is lacking, you won't gain much from a stable architecture/infrastructure.
And through my Novacurian goggles this is what I would say to this customer/user/colleague:
It's always important to maintain a high level of competence in the group. Through user-friendliness, documentation and education.
To achieve the most vital element of speeding up a process, Flow can directly enhance most systems' user-friendliness.
Documentation and education is a combination of system development and process working together to achieve a long-term solution. But it should, of course, continuously improve and be part of their on-boarding and change process.
The digital transformation is behind each corner whatever you will call it. All companies are in different positions and they have their own journey to go. But as with all major changes made in an organization I think that the idea of continuous improvement is something we need to consider. Just as the normal misinterpretation of that a company can implement LEAN through a project and say "Done. So let's do another project". Lean thinking as well as continuous improvements and a healthy digital transformation is the creation of a culture that should be reflected in all decisions.
IT suppliers of systems, services or products are not always that keen on creating the atmosphere towards the customer that a supplier should be challenged and improve as well. I am directly opposite, the first things I do is to in a concretive way criticize. Both internally and externally. I do not want to implement anything I don't believe in myself. I would always alter the result and promises so that I can be transparent and honest.
The utopia is that we lay a foundation of the customer's own continuous improvement process and that Novacura Flow together with our support and change processes can aid them to keep up the pace with technology/digitalization as well as process improvements.
Novacura Flow hooks in perfectly in any organizations journey to digitally transform. It is a great tool to both achieve the goals but also to be able to measure and analyze in a modern and digital way. The goals and KPI's should be set from the top all the way down to the floor. But Novacura Flow applications and portals can help all different parts of the organization to track and achieve their own goals.
And from our side, we as suppliers need to be aware of the fact that our beloved product needs to be up-to-date with modern standards, our implemented solutions need to be properly thought out in terms of maintenance and possibility of easy support. And I think that Novacura is well on its way here to set a great structure to achieve this. Helping customers in their own transformation, to success of course.