A blog post from Östen Westman at Novacura about the importance of having better system support for employees who directly influence the value- creating process.

In my role as a consultant, I've been introducing business systems to companies during the past 20 years. One question I keep asking myself is why people that are working farther down in the organization often have inferior IT support systems, or a lower degree of automation in their administrative processes?

In my experience, companies choose to invest in digitized and automated processes for the executives (for example automated workflows for billing and advanced reporting tools) but at the same time expect other employees to manually contribute to different processes in which they often must repeat entries for time reporting, article information and work order information.

This is contradictory because basic process optimization is aimed at eliminating unnecessary and not value-creating activities as much as possible, and thus increasing the value of the entire process. The more people are affected, the more can be improved. Therefore, organizations should focus and prioritize a larger number of employees. It's simple math.
I have drawn the following organizational chart on various whiteboards many times, explaining my view on how companies should present their organization for optimized accessibility and efficiency, and most people usually accept this somewhat simplified view. As a matter of fact, I've used this image in all parts of the world, and no one has yet argued that employee's other than the managers should have better process support such as:
Easier interface
Minimal administration
Correct information at the right time
Higher performance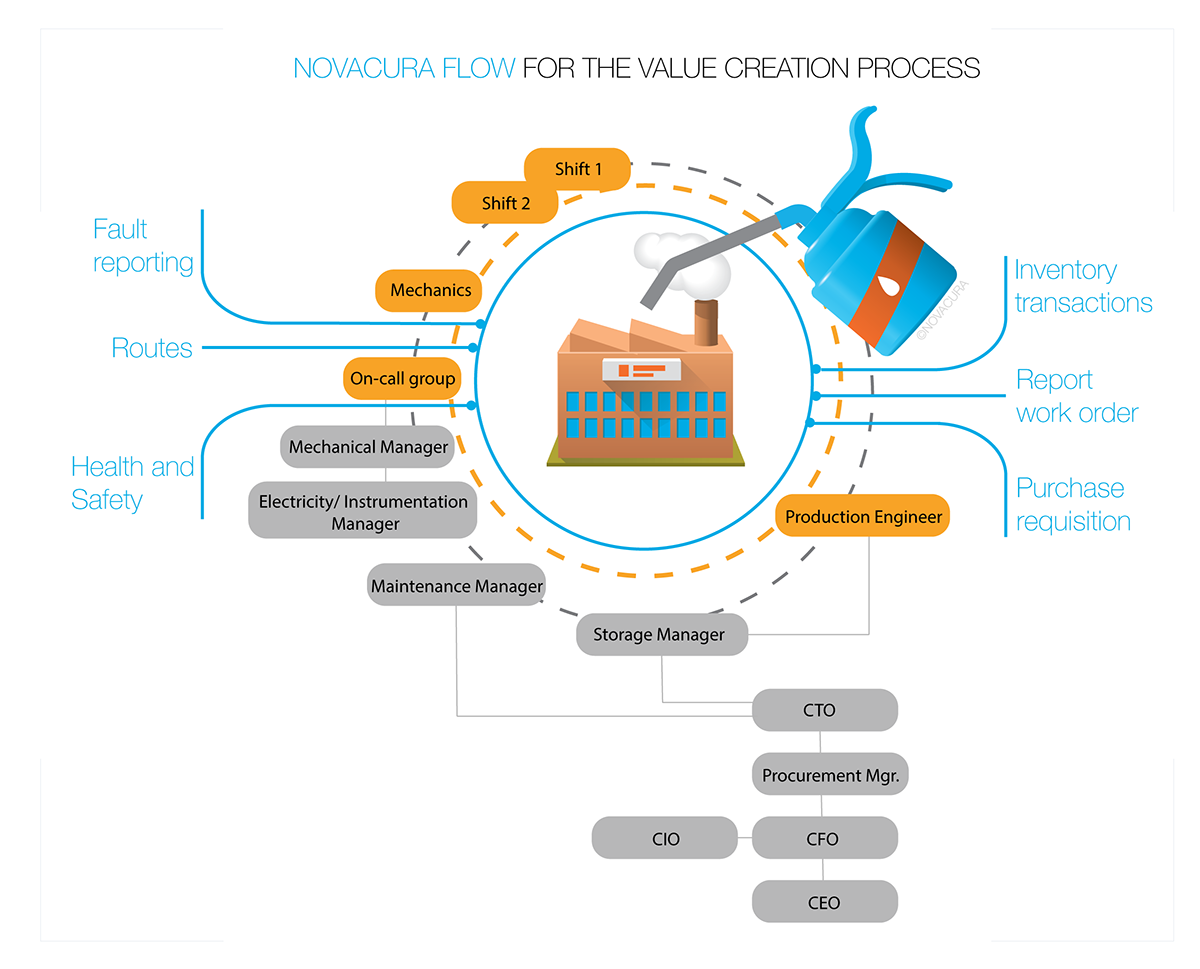 In the example image, there's an inner layer of roles within the operation, maintenance and production management that can affect and influence availability, plant speed, and quality, while the other roles are more peripheral regarding the actual value-creating process.
We at Novacura believe that several important pieces of this puzzle must be added to achieve better system support for employees who directly influence the value-creating process:
A general process platform where the right information from one or several systems can be presented to the user at the right time.
An easy-to-use role-adapted interface that guides and directs the user to succeed in an educational way.

Short lead time to identify and deliver continuous improvements to critical processes.

Experience in leading clients in the process of changing their organization and business.
If you are interested to know more about how Novacura can help you, or maybe challenge me on these statements, feel free to contact me!
Östen Westman
osten.westman@novacura.se