Novacura Flow 6.13 is the release many of you have been waiting for! The new release includes 7 highly requested portlets, an improved Studio experience, enhanced mobile client capabilities, new connector architecture, and more scalable storage capabilities. These features combined will improve the look, feel, and performance of Novacura Flow!
In addition to this exciting release, we've also implemented a new release strategy that will considerably shorten the lead time for future releases.
Take a look at some of the highlights. For a full list of new and updated features, read through the Novacura Flow 6.13 Release Notes.

7 New Portlets for Portal 2

You've been asking for it and the new portlets are finally here! The Novacura Flow 6.13 release has some substantial improvements for Portal 2 starting with a new Portal installer, a revamped release strategy and 7 popular portlets:
Document Viewer
View and organize documents from directly within the Document Viewer portlet using the folder structure of the document tree.
Inbox
Access inboxes setup in Flow Studio to see and run assigned tasks from directly within the Inbox portlet.
Workflows
Start, run or assign workflows and connect data sources (if needed) directly from within the Workflow portlet.
Bar Chart
Visualize data in a bar chart, add multiple series and set the colors of your choice with the Bar Chart portlet.
Kanban
Visualize and manage your work activities across systems to optimize performance with the Kanban portlet.
Scheduler
Easily plan, schedule and edit appointments, tasks or resources by day, week, month, timeline or agenda in the Scheduler portlet.
---
---

An Improved Studio Experience
There are many Studio enhancements that you're sure to love. With Flow Studio you can now add break points, update all dependencies at once, and perform new FlowScript functions. Additional edit capabilities and unique workflow element names also make it easier to spot and fix errors.

Dependencies
Easily identify, view and update all dependencies more reliably with additional update options and a multi-tree view.

Break Points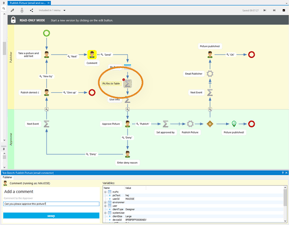 Add break points to assignments, machine steps or machine workflows to easily inspect variables at each breakpoint.
Flowscript Functions
Three new Flowscript Functions were added to improve usability including FirstOrEmpty, FirstOrDefault and DateTime.
User Overview
Admins can find data more quickly (without the need for extra clicks) with the addition of more columns in the user overview.

Quick Edit
Save time by going directly into edit mode from a workflow element (even if the workflow is in read-only mode).
Workflow Source Code Editor
In the event of an emergency, you can now switch the Studio view from design to code view to help fix corrupt files.
Unique workflow element names
Workflow elements will always have unique names to help you spot and fix errors more quickly.
Minor Toolbar Menu Changes
Minor edits were also made to the toolbar menu and tab names to make it easier to navigate Studio.

New Connector Architecture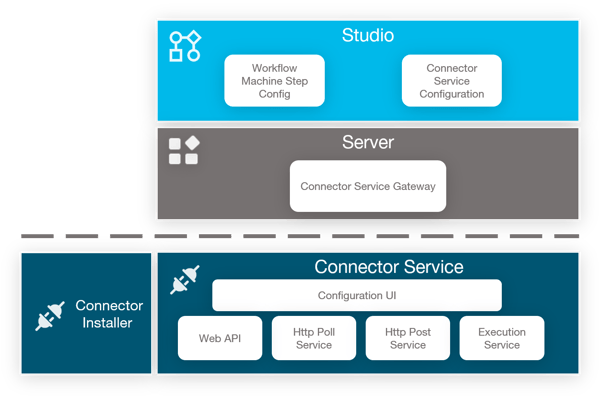 The new Connector architecture (where a connector is deployed as a service) improves scalability of the platform and can be installed anywhere as long as it has an outbound connection to the server. Once installed, the connector can be managed as usual in Flow Studio.
The Connector architecture is a beta release, and is limited to the following connectors:
IFS Apps 9 AP DB Connector Service

IFS Apps 10 AP DB Connector Service

MS SQL Server DB Connector Service

File System Connector Service

Connector Service Installer (to be released later in a service pack)
---
---
---

Client and Mobility Improvements
The mobile client was improved with the ability to add group files and secure offline transactions by user.
File Gallery Grouping
Group files by any information in the data source so users can easily access the files on any device.

Secured Offline Transactions
Offline transactions are now saved per user to ensure you don't lose your offline transactions.
---
---
---
---

Additional Features
In addition to the features listed above, take a look at the changes that were made to make storage more scalable and license maximums more enforceable.

Scalable storage
New storage architecture allows MS SQL Server to be used as additional storage and makes cloud environments more scalable.

License changes
It is no longer possible to exceed the license limit and maximum concurrent users will be set for test environments to prevent misuse.

More details and instructions are explained in the full release notes.
Happy Flowing!