In this version of Novacura Flow, we introduce new features in more or less every corner of the platform. Improvements in Portal 2, new stuff in the mobile clients, a new concept for connectors, improvements in the Studio, along with some more technical changes following the product's strategy towards Cloud, scalability and a high level of security.
Here are some highlights. You can see the full list of new and updated features by clicking here.
Portal 2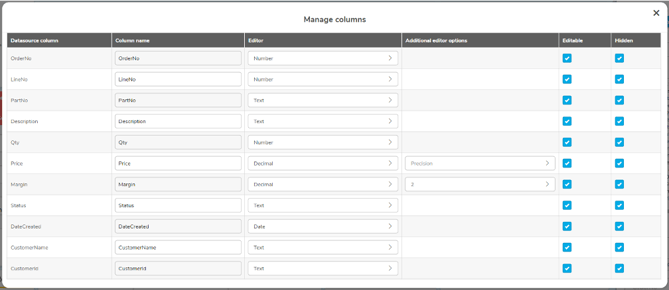 New Table Portlet options
You now have the option to group columns in a Table Portlet. One or more groups can now be created in a table.​

We have also introduced a multi-sort function. You can now sort multiple columns in a table to, for example, sort on a group and then values within that group.

You can now adjust the font size and row height in a table. This will make it easier to adjust the size according to your needs and preferences.​

A Table Portlet's column configuration can now also be done as a grid view. This will give you a better overview and make configuration faster when you are dealing with many columns.​

You can now choose whether to let overflowing texts, in a table header or cell, wrap to the next row instead of being clipped.​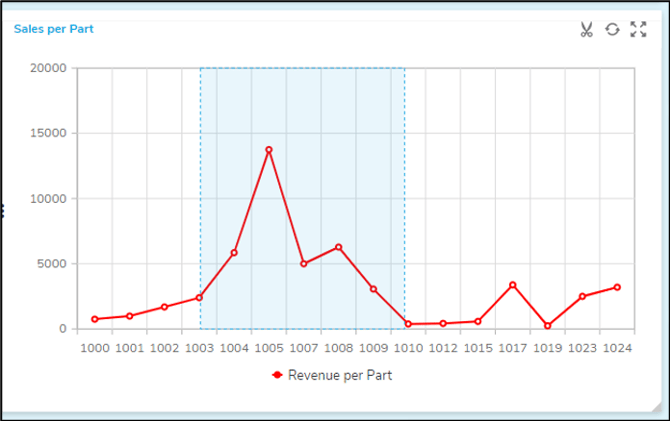 New Chart Portlet options
You can now set up listeners for the Line Chart, Column Chart, and Pie Chart Portlets to use the data being sent.​ You can also choose whether to show tooltips and legends for the charts.​

The Column Chart and Line Chart Portlets have been extended with the functionality to zoom in/out, either by marking a specific area of the chart or by using the scroll wheel.​
Branding and personalization
We've added the option to upload and use a custom favicon.

The Speedometer Portlet can now inherit colors from the color rules.​

Portal 2 now supports the culture set on users in Studio. Dates, currencies, and numbers should now format according to your chosen locale.

You can now set a default color for KPI cards. The default color can be overridden with specific color rules.​ You can also set a color for KPI description text​.

Flow Studio updates
From this version, you can now control where a menu should be visible. This means that a menu can be set up specifically for the Flow Portal or for a mobile client.


Mobile client updates
You can now enable device settings to use beeping and/or vibration to provide feedback without the user having to look at the screen. ​Some examples of where the user may encounter a beep and/or vibration:

Trying to log in with an incorrect username or password​
Scanning text into numeric fields​
At assertion step popup​

The pause and exit icons have been updated​ in all mobile clients to make them more visible to the user.

Connector as a Service (CAAS)
The new connector infrastructure allows connectors to be installed separately from Flow Server, thus creating new possibilities for a more flexible Flow setup. ​
For example: when a customer is using Flow in the Cloud, the connector service can be installed on the customer's local network, enabling a secure connection between the Flow Server and the locally installed systems.
Some of the benefits of the Flow Connector as a Service: ​
Scalability – Connector services can be installed in different places, where they are best needed and away from the Flow Server.

Stability – using a Service Bus relay makes communication more robust and resilient to temporary losses in a network connection.

Independent connectors ​- only install what is needed.

Hybrid solutions support - run Flow on Azure and connector services on-prem

Fast updates - new versions of a connector can be released and deployed independently ​
In this version we release an unofficial, targeted, beta. This means that we are not quite ready to release it to the global market. Instead, a limited number of customers will try out the concept for a period of time. When everything looks fine and we have the most frequently used connectors done as services, we'll make it available to everyone. ​


Increased support for Open ID Connect authentication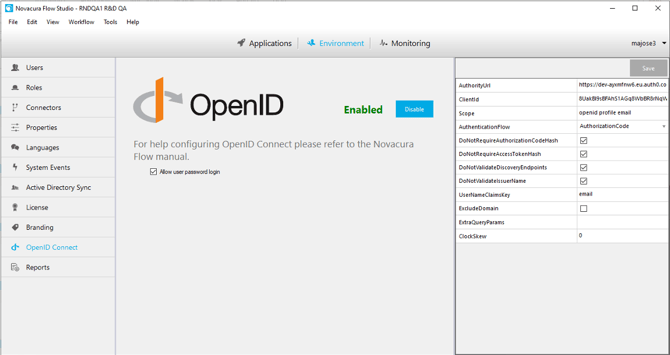 As the market moves towards standard protocols for identification and authentication, we have increased the built-in support for OpenID Connect in Novacura Flow.
Going forward, this is our main strategy for authentication. In all cases where high-security authentication mechanisms are required (such as two-factor authentication), an OpenID Connect based authentication provider should be used. For example, Azure AD could be such a provider.
Customers using Azure AD - ACTION REQUIRED!
With the increased integration of OpenID Connect, customers using Azure AD to log in must make some changes after upgrading to Flow 6.12.
More details and instructions are explained in the full release notes.
Happy Flowing!