Last week, at a gala in Gothenburg, Novacura received a 2018 DI Gasell award. The annual award is presented to the fastest-growing companies in each of Sweden's 21 counties.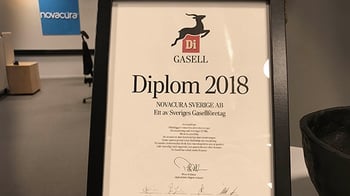 Novacura was previously recognized by DI Gasell in 2013.
Since 2005, Novacura has grown from a small team in Gothenburg to 110 permanent employees in nine countries—and we're still growing. In fact, we've grown approximately 438% between 2014 and 2018.
Gasell is the Swedish word for gazelle, a small animal known for its speed and grace. The term "gazelle company" was coined by American economist David Birch, who believed that small, rapidly expanding companies—specifically those whose sales doubled every four years— are responsible for up to 70% of all new jobs in the US.
Gazelle companies, as opposed to elephants (Wal-Mart) or mice (the corner candy store) are key to economic prosperity because they start small and grow fast, creating many jobs along the way.
Each year, Dagens Industri (DI) pays tribute to Sweden's Gasell companies through a series of award galas. Less than one percent of Sweden's limited liability companies meet the requirements to be named a Gasell company, which include:
a turnover exceeding SEK 10 million

at least ten employees

at least doubled its turnover, comparing the first and last fiscal year

increased its turnover each year in the past three years

a combined operating profit for the four fiscal years that is positive

organic growth (i.e. not through acquisitions or mergers)

healthy finances
"The most important thing for us is that our customers are happy and see value in our products and services," says Johan Melander, CEO of Novacura.
"A recognition like this gives us proof that we are on the right path, and that makes me really proud. We have a great team of experts in the company, so this is just the beginning."