Part 3 - Data collection, monitoring & communications
As we learned in the last article: Manufacturing in the COVID-19 era: Overcoming challenges - Part 2, real-time visibility is vital for planners to react quickly to production changes. By having an accurate view of the factory and incorporating planned maintenance, planners can better adjust production plans and limit downtime.
This article will dig deeper into capturing and consolidating data from different departments so that historical data and predictive analytics can be used to prevent issues before they arise. It will also highlight the importance of using B2B portals to provide instantaneous communication with suppliers and customers.
Real-time visibility with Novacura's manufacturing suite



As a refresher, here's a look at Novacura's complete manufacturing suite that can help manufacturers overcome many of the challenges tied to increased downtime.
In the first article, we reviewed the first two areas around production execution. The second article explored areas three and four around production execution and maintenance. In this article, we will dig into areas five and six to take a closer look at data collection, monitoring and B2B communications.


The key to manage is to measure
Production efficiency can be precisely measured by using Novacura Flow to gather data from different departments, including the warehouse, shop floor, quality control, maintenance and more. This real-time insight helps managers to:
Measure the scale of downtime

Identify root causes through analysis

View all the information in one place

Receive objective feedback from real data (not people's declarations)


Prevent issues with predictive analytics
Connect machines or equipment using Novacura's IoT connectors to constantly measure key parameters such as power consumption, vibrations, temperature and noise. This information can be gathered automatically in real-time to:
Provide historical data for analysis

Use AI (artificial intelligence) to provide predictive analytics

Automatically escalate issues if disquieting trends arise

Protect from future machinery damages and unexpected downtimes
"With a digital solution that detects errors in production, there is a much bigger chance to fix the problem before the impact grows into a critical problem."
- Fredrik Rosendahl, Sales Director at Novacura.


Instantly provide B2B communications
Improve production planning and overall production efficiency with direct, instant and precise communications to suppliers and customers. Novacura's B2B portal can be used for both suppliers and customers and offers the following benefits to minimize downtime:
Suppliers

- The B2B portal for suppliers can confirm purchase plans and deliveries online. Get immediate notifications of delivery changes or delays so that you can adjust production plans and set realistic expectations.



Customers

- The B2B portal for customers helps predict and report customer demand in advance of purchases, preserving appropriate time for the entire supply chain.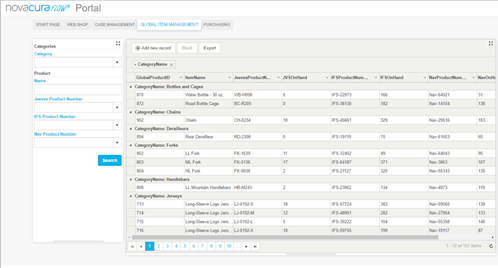 Minimize downtime with Novacura Flow
The last three articles showcased how our solutions - developed on Novacura Flow's technology - can help manufacturers improve overall production efficiency and reduce downtime. With the Novacura Flow low-code platform, you can easily create tailor-made applications and connect them to your existing systems without the need for programming skills.
If you would like to learn about all of our solutions for manufacturers, you can download the full report: Manufacturers in the COVID-19 era: Top 3 challenges and how to overcome them.
To learn how we can improve downtime in your manufacturing operations, contact us.