Part 1 -

Production Execution
Our last article discussed the Top 3 challenges manufacturers face in the COVID-19 era, based on interviews with our existing customers. In this article, we'll start to evaluate ways to overcome the identified challenges. The first area we'll look into is how to optimize production execution.

COVID-19 Challenges Recap:
As a quick refresher, here are the top 3 challenges that our manufacturing customers faced as a result of COVID-19:
Problems in the supply chain

More competitive market

Internal problems
If you can relate to any of these challenges, it's important to know that there are solutions available to help overcome them.

Execution is only as good as the information at hand
Since operational planning is only as good as the execution of information available to daily planners, it's critical that you address the challenges holistically.

Over the last 15 years, Novacura has worked with our customers to develop a complete suite of manufacturing solutions - using our low-code development platform, Novacura flow - to help alleviate these challenges.

The diagram below illustrates the key areas within our manufacturing suite. To start, we'll take a closer look at the first two areas around production execution.

Optimize production execution
Production staff and work center operators can improve downtime reporting and reduce downtime-related activities using our Mobile Work Orders app. Let's take a closer look at how.



Improve downtime reporting
Novacura's Mobile Work Orders app improves downtime reporting by providing better analysis and improved decision making, enabling production staff on the shop floor to:
Check task priorities based on the latest production plan

View tasks details, including technical documentation, report operations (time/status) and used material

Report and track downtime in real-time

Measure spending on downtime activities (including idle time)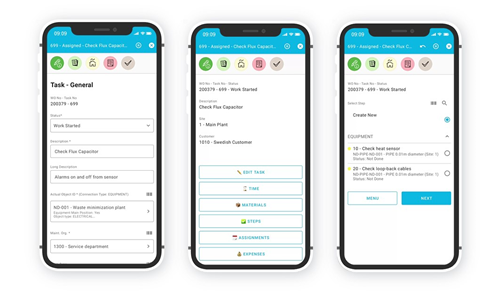 Limit downtime activities
The Mobile Work Orders app also helps work center operators save time and limit the scale of damages caused by inexperienced workers by allowing them to:
Request or order new tools or spare parts directly from the work center

Observe the progress of requested tools or parts in the app

Standardize maintenance tasks with guidelines for operations

Require users to complete a maintenance checklist

Reduce downtime with an integrated approach
In addition to improving production execution downtime, Novacura can also help to improve other areas within your manufacturing process. To learn how Novacura can help with production planning, maintenance, data collection and monitoring, read our next article: Manufacturing in the COVID-19 era: Overcoming challenges - Part 2.

If you would like to learn about all of our solutions for manufacturers, you can download the full report: Manufacturers in the COVID-19 era: Top 3 challenges and how to overcome them.
*To learn how we can improve downtime in your manufacturing operations, contact us.