Jenna Brandon has been an IFS Consultant at Novacura since October 2018. We asked her what it's like to work at Novacura.
Tell us a little bit about yourself.
I live in Linköping in Sweden, originally from Småland. I grew up on a horse farm, along with my four siblings. I moved to Linköping to study, and here I met my husband and stayed after University. I worked for five years in a large industrial company in Mjölby. And then, I came in contact with Novacura since we used the Flow application at my previous company, and I thought it was really interesting. Interesting enough for me to go onto the website and apply for a job, and that was almost two years ago. So, for a little more than a year and a half, I've been a part of Novacura in Linköping. Here is also where me and my husband commissioned and built our house, and where the project management of the build of our home has taken a big part of my free time, and here we live happily with our two young boys.
How would you describe your job to someone who's never heard the term "ERP" before?
That's always interesting to do. Usually, I explain that you know when you work at a company, you need to have data stored concerning what you buy and sell and salaries and so on? That data is gathered in the ERP system. My job is to make sure that the ERP system works as well as possible and to develop according to new needs, and then make things a bit smarter and more suitable for the requirements. But my father says when he tries to explain, he says that I do a lot of PowerPoints. That's how he's grasping what I'm doing.
What did you study in school?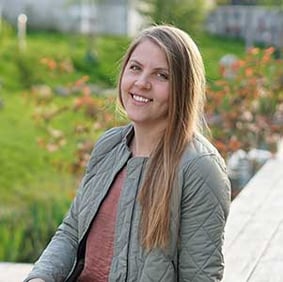 Business. Master of Science in Business and Economics. It doesn't have any direction towards IT at all, actually, but my first job out of University was mainly focused on educating superusers and I thought that was interesting. So I got to learn a lot about it in a big training, sort of like a trainee program there. My focus has always been to be the bridge between IT and business, which is where I like to be.
Well, it sounds like you're at the right company to do that then.
Yeah.
Why is it important to have that bridge between IT and business?
A lot of things can get lost in translation, and it's very important that this person, the bridge, understand what is doable and see things from a broader perspective. They have to be able to translate something very technical, which can be very off-putting to the business, into business language and the other way around. If the company has vague demands, it can be hard for developers to design a solution that is user friendly and fits into the bigger picture.
Walk me through what a typical day looks like for you.
I start like everyone else checking my emails, see what to prioritize. Of course, the customer is the number one priority, so I make sure that they feel supported and that we respond quickly. On Mondays, I prioritize the week. I look through all the meetings. Make sure that the developers are on track. See if anyone needs any help. Right now is a bit of a unique situation since we are online only due to the situation today. But I am making sure that we have follow-ups and just checking in how everything is going. Mostly I work with project management and, to some extent, development as well. Mainly designing in our Flow Portal and doing some easier coding. Since our systems are very easy to code in, even I, who doesn't have an IT education, can do it (to some extent of course).
So maybe half of my days are meetings, and half of my days are planning, budgeting, and making sure that everyone knows what to do in my teams. Usually, I work on between 2 and 4 projects simultaneously. Currently, I'm working with 3 customers and in my spare time I do developing.
What would you say is your biggest accomplishment since starting at Novacura?
There was a big project that involved document handling and having a very controlled way of storing documents and having an approval process where it's very clear who has the ball when it comes to the documents. Who is supposed to review, who's supposed to approve, who is supposed to read, and who has read? So a very full-scaled solution when it comes to document handling, where all the documents are stored in IFS. This was a year-long project, almost, and it was exciting because the demands were so specific and we were working very close to the customer. We were able to deliver a very full-scale solution which the customers are happy with. It's always nice to deliver something that the customer is happy with, so that would probably be my biggest accomplishment because I was quite new at Novacura. And even though I had worked as a project manager at my previous company, it was a very large company where the routines and how to project manage was very clear. Since Novacura is very flexible and dynamic and quite a new company, a lot of it was left up to my own creativity and my own way of thinking in how to handle a project which was scary at first, but very fulfilling.
What qualities do you think are most helpful to be a good consultant?
There is a Swedish word called lyhörd which means to be very open-minded and responsive. You need to listen closely to the requirements and have a very close relationship with the customer, especially at the beginning of a project. You need to really focus on understanding the demands properly because that will help out in the entire project. And then I think it's very important to have a close follow up: not to spend like four weeks on development and then show the customer. You might find out that you were going in the wrong direction and misunderstood something, or something was not explained and something was thought to be self-explanatory. So I think it's very important to have an extensive requirements base and then to have close follow-up. At a minimum, every week. It doesn't have to be a two-hour workshop; it can be 15 minutes to show the customer where we are and get some feedback so that we continue on the right path. So yeah, it's very important that we listen to the customers.
To go on the other side of that, what skills and qualities are helpful when working with a consultant?
I think it's very important to be clear about what is desired and also to be open to listening to other ways of solving something. Often a customer might have a very clear image—maybe have done a PowerPoint—and say "this is how I want it to function" and maybe with our experienced consultants we have some experience about, "but this might be better in the bigger picture." So the customer also needs to be open to suggestions, and hopefully, they trust us enough to listen and at least take it in and make a decision. Because since we have the tools that we have, some of our solutions might be better for the user experience in the end.
Is there a pattern to what customers are looking for right now?
I would say, since I mostly work with customers who already have the IFS ERP system, they're usually satisfied with the amount of possibilities in IFS. But then since it is so broad and can fit a lot of types of companies, they're looking for more specialized solutions and a more flexible way of performing their business, but also to exclude what is not needed for them to make it more user friendly. Because ideally a company wants their employees to go into a system that is self-explanatory where you can't do anything wrong. They want to make use of the best parts from IFS for instance—or other ERP systems—and want to know what we can deliver when it comes to specialization.
What do you like about working with the IFS ERP?
What I really like about IFS specifically is that it has all the components needed. I very much appreciate that it's quite adaptable and adding a custom object, for instance, is such a simple thing as being able to add a custom field. This makes it a lot easier when compared to working with other ERP systems and I really like that.
What do you like about working at Novacura?
One of the most fun parts about working at Novacura is that it's very challenging at the same time as it is enjoyable. We have a lot of access to highly skilled colleagues and are able to learn new things everyday, and the fact that we are able to deliver solutions in a short amount of time is great.