Imagine you're staying the night in a hotel. If your bed is uncomfortable, or the toilet leaks, or the room is too hot, you won't sleep well—and you probably won't stay at that hotel again, either.
But when everything meets your standards—a comfortable bed, a great breakfast in the morning, a friendly conversation with the front desk staff–you'll enjoy your experience, and might choose to stay at that hotel the next time you're in town.
This is the essence of user experience (UX for short). It's something we're always working on here at Novacura, because we don't just want our products to be functional: we also want them to be easy to use.
Welcome Josefin and Anton
To help with this, we've recently added two UX professionals to our team: Josefin Pettersson and Anton Hallin.
Josefin is originally from Gothenburg, but in 2013 she moved to Luleå to study Industrial Design Engineering at Luleå University of Technology. She finished her Master's thesis this June: a welding helmet with focus on ergonomics, usability and user experience.
Anton has lived in Gothenburg his whole life. He studied IT and Interaction design at Chalmers, and did his Master's thesis at Semcon. He worked as a developer at Semcon for about a year before switching gears to UX.
Why UX is Important
The UX Designer decides on the look and feel of an application, making sure that it works as intended, but also that it's intuitive, easy to navigate and pleasing to the eye. To use the hotel analogy again: the UX Designer might decide how firm the mattress should be, where the lamps should be placed, and how many channels should be on the TV. They do this through a combination of research, testing, and creative thinking.
"The goal of Novacura's products is, in many ways, what we as UX/UI designers often work towards: to take complex and hard-to-grasp concepts and turn them into something (more) simple and approachable." – Anton Hallin

A big part of being a UX designer is to find and solve issues before they become problems that negatively affect the user experience. The cost of dealing with development-related issues grows exponentially as a feature moves further into the development process. That's why UX designers always want to start from square one by looking at the most vital information: the user.
"Looking forward, I think we'll have developed an interface that is more intuitive, supportive and encouraging to interact with. Furthermore, I'm hoping we will have a more coherent design language and interaction across all platforms that inspires and empowers the users."

– Josefin Pettersson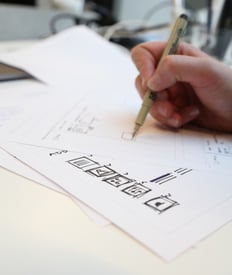 UX is a never-ending process: as technology evolves, so do users' expectations as to what an application can do. We hope that by expanding our User Experience team, Novacura Flow will continue to meet—and hopefully exceed—your expectations. If you have a good user experience with Novacura Flow, you're likely to use it more and do more with it. And that's what we want you to do!
Welcome to the team, Josefin and Anton! We're really happy you're here.
Want to work with Novacura? Check out our current job openings.
Want to try Novacura Flow for yourself? Sign up for a free demo.