Manufacturing involve complex of requirements that should be followed on daily basis to streamline the process. Interruptions in the process doesn't let to increase production efficiency. Non-value-added (NVA) can be limited through OEE measurements but no precautions can be taken over the root cause without defining area of the problem. We want to show how to decrease downtime by effective managing the production and maintenance processes with customizable Smart Applications for Manufacturing.
Major problems in manufacture are related to:
Equipment failures

Breakdown of the supply chain

Shortages of resources and materials

Ineffective planning

Human errors and accidents

No crisis strategy and ambiguous working instructions
Below are defined root causes that are relevant to mentioned problems of manufacture downtime. These are reasons acknowledged in manufacturing without additional exceptions for the industry in which the manufacturer operates:
Poor equipment maintenance or lack of maintenance
Delayed delivery, enforced suppliers diversification
Inability to measure the downtime scale
Internal/external communication
Lack of staff competencies
Excess manual and administrative during maintenance

---

Top-3 Biggest Issues on the Shop Floor
and How to Fix Them

Our task is help to connect and orchestrate all available components in manufacture in order to reorganize and prevent unexpected downtime. We have solutions designed to achieve the ability to improve internal operations as well as enhance B2B process capabilities. To better understand what solution can we provide is important to have clear insight into the areas that need most focus in manufacturing. Below we present the overview of the key modules that are a part of the integrated solution.
Production execution Work reporting
Mobile Work Orders application as a solution for downtime reporting.
Novacura provides a Mobile Work Orders application, that is used on the shop floor by production clerk. Operatos can use application in order to:
Check task priorities based on the latest production plan,

View tasks details, including technical documentation, report operations (time/status) and used material,

Report and track downtime in real-time,

Measure spending on downtime activities (including idle time),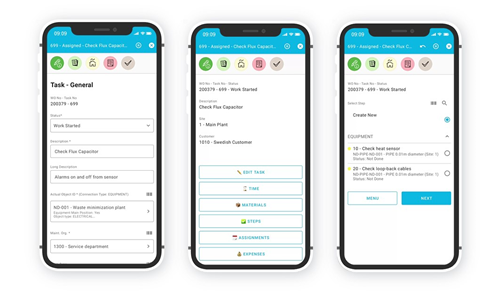 What is especially important in optimizing the downtime, operations staff can directly report downtime via Mobile Work Orders application. They can select downtime types (like tools calibration, tools replacement/reconfiguration, waiting for material, waiting for staff, damage). This application can also help companies to measure real-time spending on downtime activities (including idle time).

Production execution

Work Orders
Mobile work orders app can improve downtime activities.
Work center operators can also benefit from having a Mobile Work Orders application while performing downtime activities. In the integrated environment provided by software, the operator can request new tools or spare parts directly from the mobile app. The request goes immediately to the maintenance department (which uses the same system). The application can display guidelines for inexperienced operators, thanks to that they can avoid mistakes while performing reconfiguration tasks. And they perform their operations faster, reducing downtime period. Moreover – the application can request for completing "checklists" connected to each type of maintenance task. That way we can drastically limit the scale of damages caused by i.e. inappropriate tool replacement, and as a result, avoid future downtimes.
Request or order new tools or spare parts directly from the service centre

Track and trace the progress of requested tools or parts in the app

Standardize work instructions for operations

Require users to complete a maintenance checklist




Production planning
Real-time planning based on the information from the shop floor and warehouse.
Mobile application is dedicated for production clerk that running various functions through operators, maintenance and quality controllers. All of them can report their activities in the Novacura mobile app. For instance – warehouse operators can use our WMS (Warehouse management system) module to pick materials and confirm inbound delivery. But this tool can be either used to report inventory status to implement missing materials and components directly viewed by operations planners.
Report activities

Pick materials and confirm delivery

Report deliveries from suppliers to display stock levels in real-time

Manage quality control to identify issues as soon as they arise



Another good example is the Quality Inspection App used by quality controllers. As soon as they identify some quality issues (ordered components just delivered by the supplier), the information about discrepancies can be automatically shared with the planners. The online feeds guarantee planners a real-time tracking of the situation in the factory. Updated plans are instantly available for all the production workers in their Mobile work order applications.

Integrated maintenance module
CMMS Eco-system
Integrally with others our sofware provides a solution for maintenance management (CMMS). The key benefit of using our maintenance application is its integration with the other elements like production execution apps and production planning modules. This allows planned maintenance activities to be naturally integrated into production.
Imagine a situation where maintenance for a particular work center (WC) is scheduled for the next day. However, today's production has to be stopped for some time for some reasons (unexpected lack of material, an employee falls ill and is on sick leave). When the maintenance management is integrated with production planning, a planning specialist can shift planned maintenance from tomorrow to today, that way can utilize a natural downtime.
Visualize all planned production and maintenance activities

Manage maintenance to cover production downtime

Limit disruptions caused by unexpected downtime


Data collection, monitoring, statistics
Measure Supervision
The key to manage is to measure. Novacura can precisely measure production efficiency by using the data gathered in different modules – WMS, Mobile Work Orders, Quality Inspection Apps, Maintenance apps and many others. This makes it easy for managers to measure the impact of an failure and perform root cause analysis by having all contextual information, such as "cause of outage," in one place.
It can be done for the entire production and separately for particular production line . Moreover, measured information is objective (measured by applications, not by people's declarations) and gathered online.
Measure the scale of downtime

Identify root causes through analysis

View all the information in one place

Receive objective feedback from real data (not people's declarations)

Damage prediction
Connect machines or equipment using IoT connectors to constantly measure key parameters such as power consumption, vibrations, temperature and noise. Information can be gathered automatically in the online mode. This ability doesn't only provide historical data (for further analysis), but can also feed the "predictive engine" (also supported by AI – Artificial Intelligence). This predictive engine can continuously analyze different variables and escalate when there is some disquieting trend (by extrapolating historical data). It can protect the company from future machinery damages and unexpected downtimes.
Provide historical data for analysis

Use AI (artificial intelligence) to provide predictive analytics

Automatically escalate issues

to

prevent recurring incidents

Protect from future machinery damages and unexpected downtimes

Suppliers B2B Portals
Direct, instant and precise communications with the exterior of the company are also one of the keys to improving production planning and then overall production efficiency. Novacura can provide B2B portals for both – Suppliers and Customers. The B2B portal for customers helps predict and report customer demand, purchase and estimate delivery time for the entire supply chain.
In the context of downtime optimization, it can provide the following benefits:
On the Supplier side

– suppliers can confirm purchase plans and can confirm deliveries. They can also instantly update all delivery changes (i.e. lack of some components in the upcoming delivery or delivery delay). This information can be immediately transferred to the Planning module (APS) and planners can reschedule activities.




On the customer side

– direct wholesale customers can predict and report their demand in advance in a formal way. Thanks to that, the purchasing department can issue their purchases in advance preserving appropriate time for the whole supply chain.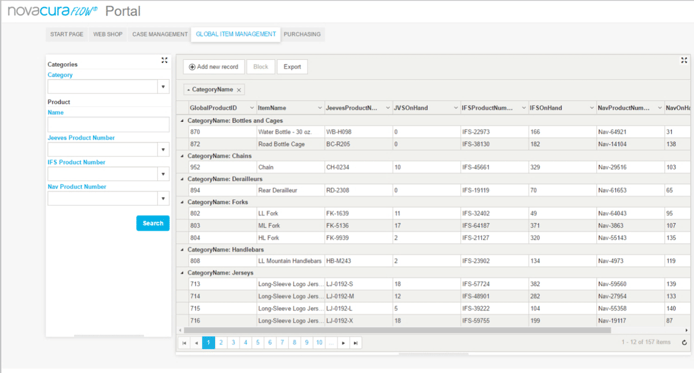 Summary
Customization of manufacturing processes is difficult and costly. If you are thinking about long-term process optimization, Novacura has a software solution for manufacturing industry. We use technology which allows users to flexibly modify the software at any time. The process modelling platform allows users to add new features and applications whenever an operational process has changed or requires additional support and also integrate with various systems.
To make the whole implementation process easier, our solutions can be implemented partially, module by module. That way, the whole implementation process can be divided into years and is much more affordable to perform.
Here is picture of our platform that present simple method of creating cusotmized applications and integrating them with internal processes.
If you are interested in implementing the presented solutions, please contact us. We will help you shape the final solution and we will take care of the whole implementation plan.