Our goal is to continuously, not least with every update we do, provide an improved product that will make our customers into business process efficiency experts. We focus on planning, connectivity and offline functionality in the latest version of Novacura Flow. Get your people planned on the right activities at the right time, connect them to the services they need, and open up for them to work offline!
New features in Novacura Flow 6.5
New Calendar control for all clients.
The new Calendar Control makes it easy to handle any date based items. You can, for example, get an overview of all your planned work or your reported hours. You can also report your time or create a new task directly from the Calendar.
Endless planning possibilities with visual planning in the Portal – Gantt, Kanban & Resource Buckets.
In this version of Flow we release three brand new Portlets for Visual Planning, each with its own view of the planning information: Kanban, Gantt and Resource Buckets. For all three portlets you have configurable data sources that will get you any data you need for visualizing planning information. Drag and drop editing will trigger workflows executing the business logic needed for the event.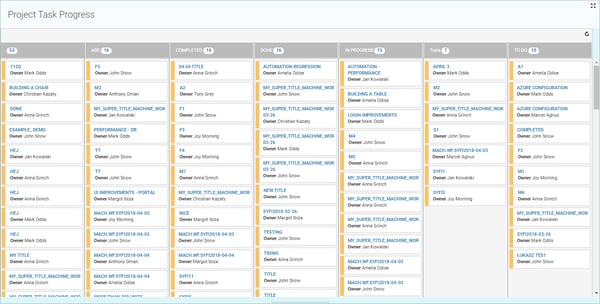 Updated Offline, enhancing usability
The Offline capability in Flow has been updated and improved in several different ways, reflecting needs expressed by both people using offline applications and people designing offline applications.
Improvements:
• Display transactions and error messages.
• Synchronize Seeds with Offline data.
• Quit a started offline workflow anytime.
• Preventing loss of data when offline.
• Cancel an ongoing offline download task.
• Performance improvements and fixes.
Run workflows on a schedule
A very useful feature for this release is the Workflow Scheduler. With this new configuration on a workflow, you can make a Machine Workflow or a User Workflow starting in a Machine swimlane run on a schedule.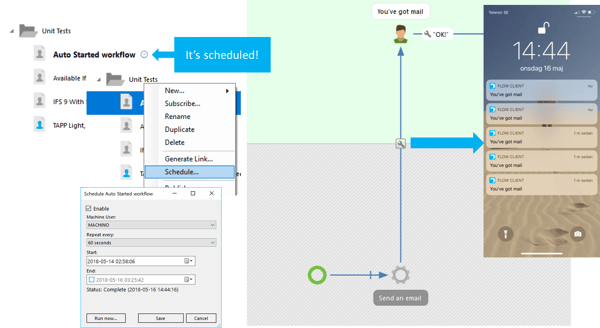 New generic REST Connector, fully integrated with the Studio
With the new generic REST Connector, we take a major step towards connecting to "anything". We can very easily connect to any REST based web service.
Additional new stuff you can read about in the complete release notes: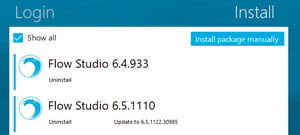 • FlowScript Type support
• New Connector: Html To Pdf
• Keyboard handling in the Windows 10 client (incl. scanning support)
• Updated Studio Launcher, for the launching of different Studio versions
• Support for Azure AD authentication
• User exits with a condition ; Available if
Go to Flow Community to read the entire release notes