Picture this.

A machine needs a repair. Rather than waiting for someone to call the maintenance company, the machine creates its own fault report, and sends that report to both the machine's owner and the company assigned to maintain the machine.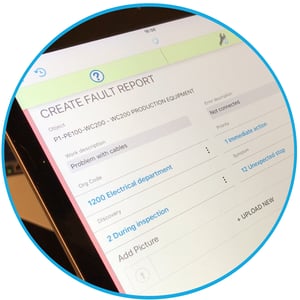 The maintenance company receives the fault report, and automatically assigns the service call to an available technician. The technician has all the information they need to choose the proper equipment and parts before heading to the site. They also don't have to spend time searching for tools because the tools have smart sensors, including GPS.
Once the technician is on the road, the machine's owner gets a status update that the technician is on their way. In fact, the owner can track the technician's progress through the entire repair process.
Once the technician is at the machine, they put on their augmented reality (AR) glasses. Through the glasses, they can see exactly what's wrong with the machine, as well as other valuable information like safety hazards, previous repairs, and so on.
From their AR glasses, the technician opens a 3d model of the machine, as well as a step-by-step video on how to perform the repair. If the technician gets stuck, they can call up a senior technician who can guide them through the repair in real-time by showing them exactly what to do—again, right in the AR glasses.
The entire repair, from beginning to end, took about 60 minutes + travel time. In the past, the same repair would have taken half a day. The technician is confident that the machine was fixed correctly on the first try, because they had all the required information at their fingertips. The field service company saves considerable time and money while also boosting customer and employee satisfaction.
This scene might be a daydream, but the truth is: everything described above is being done in field service right now. And by 2020, most field service companies will be using some form of AR in their business.
So, in this blog post, we're going to look at the current state of AR for field service. What AR options are available to field service companies right now? How are other industries using AR to change the way they do business? Read on to find out.
Three Ways to Use Augmented Reality in Field Service
AR isn't a one-size-fits-all product: it's the name given to a whole series of products that use the same technology. But the technology is still new, so we're still figuring out what exactly we can do with it. Here are a few ways that field service companies are using AR technology right now:
Interactive Service Manuals
Enhanced service manuals, with 3d models/animations, that can be accessed from anywhere — but especially when a technician is working on a piece of equipment. Enhanced service manuals provide more detail and context than a regular paper manual, and the technician doesn't have to worry about losing it or leaving it behind. Enhanced service manuals can be extremely helpful in the field, but you will have to hire an outside company to build the manual (and the 3-d models).
Remote Visual Assistance
Think of remote visual assistance like enhanced video conferencing for field service. It's a way to help technicians assess and repair issues remotely, or to help on-site technicians get expert help from the back-office while they're in the field. This is also one of the easiest ways to get started with AR, because you don't need to buy special hardware to get started. You can learn more about remote visual assistance in this blog post.
Smart Sensors and the Internet of Things (IoT)
"Smart" products and equipment that have embedded sensors to track and report performance in real-time. This information can then be accessed by technicians when they look at the equipment, either through AR glasses or a mobile device. The possibilities are nearly endless, but the initial costs—hardware, implementation, training and so on—could be really high.
Real-Life Cases: How Are Companies Using AR Right Now?
Here are ways that some brands—in field service and beyond—are incorporating AR into their business processes.
Mitsubishi Electric has created an interactive, 3-d service manual for their technicians. The manual "enables a technician wearing smart glasses to confirm the order of the inspection on an AR display and then enter the results by voice. The technology helps reduce workload and avoid entry errors because information can be entered by voice, even in noisy environments. The system is expected to be used for a variety of maintenance work, such as inspections of water-treatment plants and building electrical systems."
Porsche has equipped all their technicians with smart glasses equipped with interactive manuals, remote visual assistance, and more. "With the AR glasses on, a service technician can conference in a Porsche specialist located at the company's U.S. headquarters in Atlanta and be talked through a repair job—the technician can stream live video of the problem area, while the remote support worker can post helpful repair tips in the worker's peripheral vision."
Electrolux has equipped their field technicians with remote visual assistance from XMReality.
"In order to increase first visit completion and customer satisfaction, Electrolux decided to enable remote assistance solution for its field technicians across Europe. XMReality solution clearly appeared to us as the best solution in the area, especially the hand overlay feature which makes the support extremely intuitive and easy", says Jean-Noel Thibault, Digital Transformation Director, Electrolux Major Appliances, EMEA.
When it comes to AR in field service, the question isn't whether to adopt the technology: it's when will your company make the transition. But, as with everything new, it's important to evaluate your options before diving in. If you'd like to talk more about how AR can work with your current business processes, contact Novacura today.