Back in the early days of the Internet, people used to build websites in Notepad. They would start with a blank page and hand-code everything from the ground up.
No wonder early websites looked like this: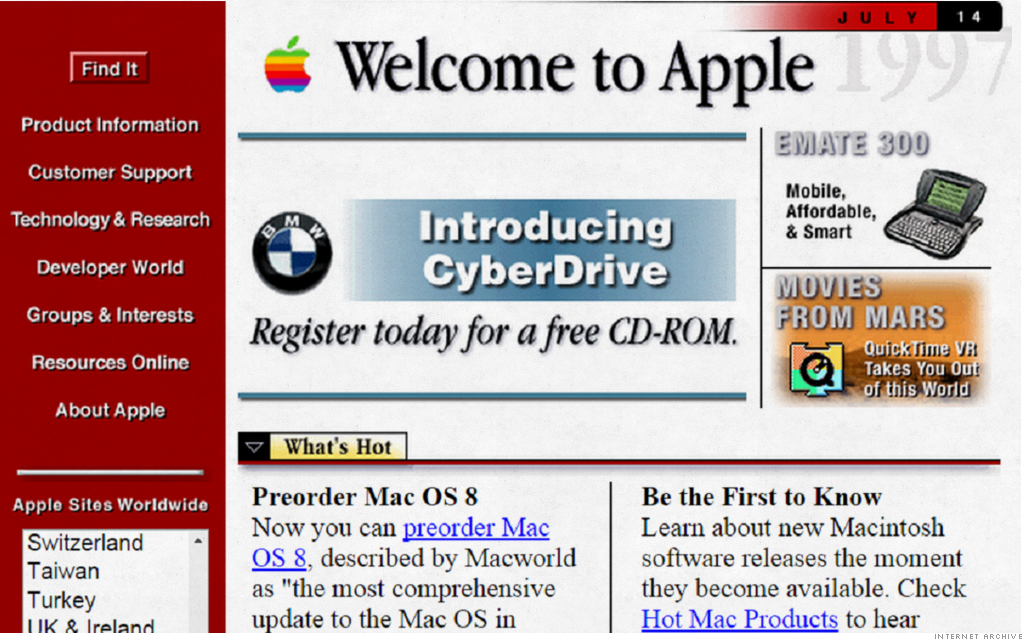 The Apple website in 1997. Courtesy of the Internet Archive.
These days, you can build and launch a professional-looking website in just a few clicks. You don't need to know any code, and you definitely don't need to start from a blank page.
Mobile app development is similar. In the beginning, apps were all hand-coded: they were slow, buggy, and took considerable time to build. But now there are many development tools and platforms that make it easier than ever to build your own apps—even if you don't know how to code.
According to a Forrester report, the market for low-code tools will grow to $15 billion by 2020 (compared to about $3.8 billion in 2017). So, the low-code market is growing fast.
But why? Why are people increasingly turning to low-code options—and why is the industry projected to increase almost 500% in the next few years?
Reason 1: Because you don't have to build everything from the ground up.
The biggest difference between traditional and low-code is the interface. Traditional app development platforms use a code-based interface, similar to a text editor. Low-code platforms use a graphical user interface, coupled with drag-and-drop modules and pre-coded elements. In other words: in a low-code platform, a lot of the app is coded for you. You just have to specify what you want the app to do: the rest happens in the background.
Because low-code platforms are so much easier to use, it cuts down on the amount of knowledge, training and skill required to use them. This makes app development more accessible to the masses.
Reason 2: You don't have to rely on a developer.
When you use a low-code platform, a lot of the code is already there, or can be generated on demand. This means you don't need to hire or assign a developer to handle all the code. That's not to say low-code development platforms eliminate the need for a developer: they don't. But they can reduce the amount of work your developer needs to do, giving them time to focus on more challenging tasks.
This is really convenient for business users, too: when you don't have to rely on time-crunched developers, you get things done faster. And because it's so much easier to build apps, your whole workforce will be more productive—especially if you're trying to make apps to improve your business processes.
Reason 3: It costs a lot less than building an app from scratch.
If you want to hire a team to build an app for you right now, it will cost you tens (or even hundreds) of thousands of dollars. You're paying for expertise, after all, and expertise is extremely valuable.
But building an app with a low-code platform costs a lot less. Why? Because low-code development apps automate this expertise. Instead of starting from scratch, you start with a library of pre-configured modules, clean code, and built-in accessibility.
It also costs less to make changes or customizations to your apps. You might need a developer to help with advanced customizations, but you can probably build most of the app on your own.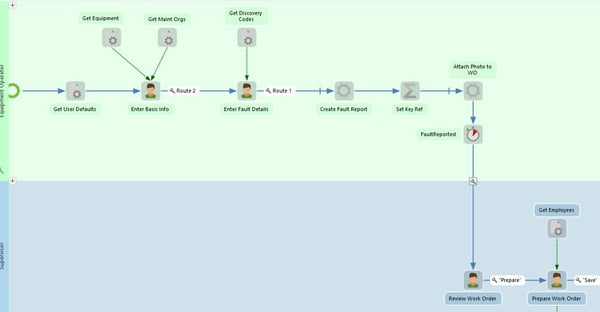 A screenshot of the Novacura Flow graphical user interface.
Reason 4: They're great for developers too.
Visual, drag-and-drop interfaces are great for people who don't know how to code… but many developers believe that they're too simple—and therefore not as functional as traditional platforms.
But low-code platforms—as opposed to no-code platforms—offer developers the best of both worlds. They offer the speed and user-friendliness of a graphical interface. But when developers need to get deep into the code, they have the option to do that too. A few other benefits for developers include:
You save a lot of development time (which can go towards on more challenging projects) because a lot of the code is already there.
You get access to pre-built templates and ready-made connections to popular services and databases.
The simple user interface makes it easy to train citizen developers on how to use the platform—so you can be confident letting them go with minimal training/supervision.
Using a low-code platform means developers have more time to focus on their real work, and can spend less time on education and training.
There's a reason why so many websites these days are built on web development platforms like WordPress, Drupal or Joomla: because these platforms handle a lot of the back-end code but are still accessible enough for the seasoned developer to customize. Think of low-code development platforms are the "app" version of WordPress: easy to use, but powerful enough to handle whatever you need them to do.
Did you know that Novacura Flow is a low-code app development platform? You can learn more about Flow's low-code capabilities by clicking here.