Flow 6.9 is here! Learn about all the great new features.
There are a lot of great things in Flow 6.9, including some new ways to connect to Industry 4.0. Read on for all the details.
New features and updates
Update to Map Portlet
Previously, you had the ability to create overlay maps in the map portlet, but the maps displayed as an outline. We've updated the map overlay feature so that you can see the full overlay, and show specific points/places on a map as a dot.
Progressive disclosure for large grids
If you have a grid with a lot of data, you know that it can take a long time to load. So, we've added a new progressive disclosure feature for larger grids. For any grid with 15+ rows, the grid will now load progressively. You can also click on the grid to open the full grid in a separate view.
For Android and IoS.
Verb sub-task output
This feature enables returning variables from a verb sub-task to the main workflow. The possibility to use the data created by a verb subtask in the main workflow will enable customer and consultants to write and run more efficient workflows.
One or multiple pills can be configured on the verb subtask, the pill can display a text or a count of how many times the verb sub-task has been run.
For Android, iOS, UWP and Web.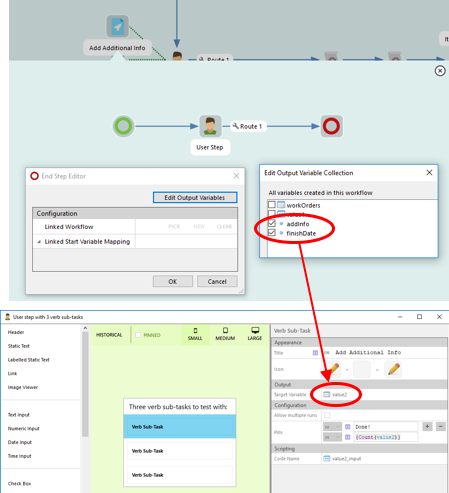 Match columns in UWP
This feature is to make the scanning setting specific columns added in NCRND-3753 available on the UWP client. CE, Android and iOS were done in NCRND-3753.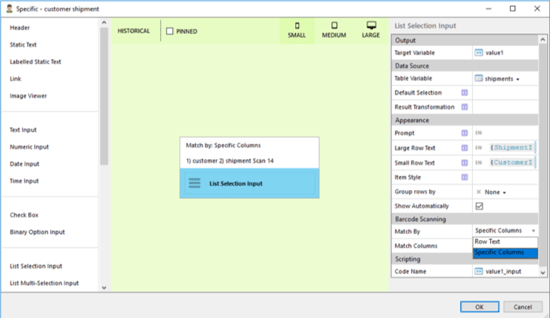 For list selection the setting barcode scanning can be set up as row text or specific columns:
Row text – Works as it initially did for Flow 6, i.e. match the large and small text of the row. In CE client it's possible to define if small, large or both should be checked and if the match is to be exact.
Specific columns – Click edit to open the match columns pop up. In match columns it's defined which columns should be checked when scanning and in which order (top to bottom). When specific column has been selected the scanning is on exact match only, regardless of client settings. Letters in upper or lower case are seen as separate values.
Updates to Flow Portal
User culture setting
You can already specify user language in Flow Portal, but now you can also specify culture—aka how to formate dates depending on the user's country/language. If culture isn't defined, Flow will follow the browser or the device language.
Update to resource bucket cards
The resource buckets portlet is used for planning tasks that employees need to complete during a specific period.
The data displayed on the card is by default the task id column and title column from the data source configuration. The tooltip can be configured to show additional data but in cases where the users are not viewing the portlet on a computer but on a big screen, for example during a stand-up, tooltip will not be available. This feature is therefore adding the possibility for users to configure what data is to be displayed on the card. The data available is what is selected in Tasks.
The cards size must be 200 x 140 pixels for the text to be displayed.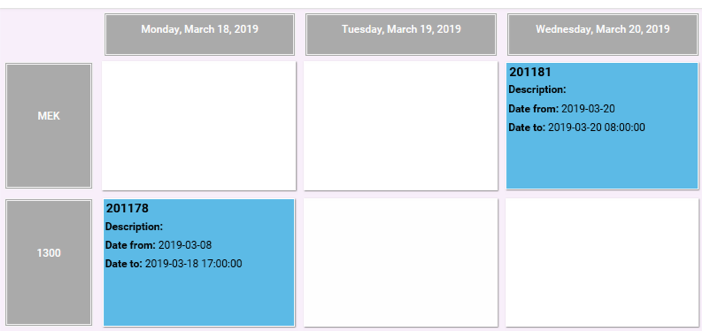 Connectors
New connector: XMReality (XMR)
lets you launch XMReality remote guidance right from a workflow
connects REST
Learn more about XMReality and remote guidance here.
REST update
REST connector can now support application/json+hal
Override content-type in an Operation output
Flow connector update
Flow storage allows you to store documents, folders, posts and news right from Flow.
With this new connector update, you can now also change and remove files in Flow storage.
OPC UA connector
Industry 4.0 connector. Helps you connect IoT devices to Flow through Azure or other IoT hubs.
As always, if there's anything you want to see in the next release, please let us know.