Everything is connected these days. But one place where things are still very disconnected is the supply chain. Full traceability throughout the supply chain has proved elusive for many businesses. But the Internet of Things (IoT) has created many new ways to improve product quality, efficiency and, yes, even traceability.
So, what is the IoT?
Wired Magazine defines the Internet of Things as:
In the broadest sense, the term IoT encompasses everything connected to the internet, but it is increasingly being used to define objects that "talk" to each other.

By combining these connected devices with automated systems, it is possible to "gather information, analyze it and create an action" to help someone with a particular task, or learn from a process. In reality, this ranges from smart mirrors to beacons in shops and beyond.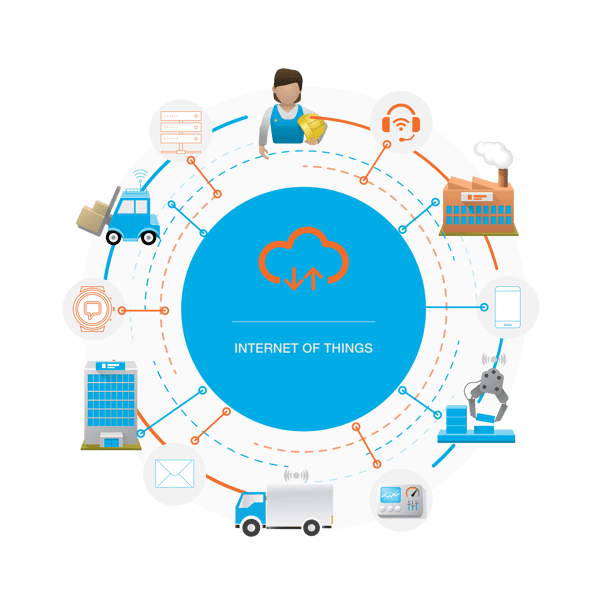 The IoT is when you take things that have traditionally not been connected to the Internet (light bulbs, door locks, sprinkler systems, etc.) and, well, connect them—usually with the help of an app. A drone is an IoT device, as are health trackers like FitBits.
How to incorporate the IoT into the supply chain
There are literally billions of IoT devices in the world—in fact, there are currently more IoT devices than people. What's more, Gartner predicts that there could be over 20 billion by 2020. But with all this connectedness and variety, IoT uses specifically for the supply chain (or IIoT: the Industrial Internet of Things) aren't as plentiful as you might think. However, there are a few ways that the IoT can improve supply chain management:
Remote monitoring
Remote monitoring is just what it sounds like: monitoring the efficiency and productivity of various things—mostly machines—remotely, through the use of sensors and software applications. You then use that data to trigger automatic alerts and actions like:
remote diagnostics
maintenance requests
remote adjustments
…and other operational processes
It used to be that you'd have to play detective to figure out the issue with a given machine, putting together clues to come with a theory that may or may not be correct. This was a slow, time-consuming process that could cause a lot of downtime. But with remote monitoring you get more data (or evidence), and you can collect that data from anywhere in the world. You also get that data in real-time, which means you can automatically adjust to changing conditions.
To get started, look into IIoT management platforms. There are many on the market: IBM, Cisco and Microsoft each have their own platform. Different platforms have different strengths and weaknesses, so take the time to find the one that best suits your needs (just like you would when choosing an ERP system).
Smart sensors
The formal definition of the term "smart sensors," according to TechTarget, is:
[A] device that takes input from the physical environment and uses built-in computer resources to perform predefined functions upon detection of specific input and then process data before passing it on.
According to the article A Designer's Guide to Industrial IoT Sensors:
Sensors play a variety of roles in the modern factory. In addition to providing data for process control, they assist in quality assessment, asset tracking, and even worker safety. The advent of powerful, cloud-based analytical software and artificial intelligence has also allowed the use of sensor data to lower production costs through process optimization and predictive maintenance. And once routed to the internet, sensor data can be put to a variety of uses from supply management to global coordination of production resources.
Sensors can measure almost anything, including:
environmental conditions: illumination, temperature, position/location
mechanical conditions: force, flow, vibration, motion
other: chemical composition, etc.
In other words, smart sensors can help you measure almost anything that can be measured. You can then use that data for quality control, inventory management, and KPI measurement (among other things). With the right sensors measuring the right things, you can do almost anything: the only limits are your budget, imagination and development skills.
The challenge for many developers will be how to attach smart sensors to legacy systems and machines. The lifecycle of industrial equipment is much longer than that of a computer or a piece of software, so many companies have older equipment and machines that just aren't equipped to connect to the internet, or be managed through an app. Luckily, there are a variety of industrial smart sensors to choose from, depending on what you want to measure and how you want to measure it (WiFi, Bluetooth, RFID, etc.). Make sure you choose a signal type that works in your factory without interference. Also make sure the sensors can be connected to your ERP, and that you have a plan not just to collect the data, but to put it to use.
Other ways to use the IoT in the supply chain
Leverage maintenance data from your machines (service alerts, machine uptime, etc.) to create a predictive maintenance schedule. Predictive maintenance helps you reduce downtime and better handle risk. And, if you service equipment for customers, you can offer predictive maintenance as a service—which could be a new revenue stream for your business.
Use GPS data—gathered through sensors on vehicles, palettes, or products themselves—to track delivery routes, delivery times, etc. You can even monitor deliveries on a map, using something like our map portlet.
If your employees are working in difficult conditions, consider providing them with health trackers to alert them when to things like over-elevated heart rates, extreme hot or cold temperatures, etc.
Use drones to visit, inspect and record information about inaccessible areas: places that humans can't reach.
Control security and access to key locations with smart locks. Smart locks allow you to lock and unlock doors remotely, give people temporary key codes, and more. Great for maintenance workers, field service technicians, etc.
Conclusion
Deployed correctly, the IoT just might revolutionize the way we collect data in the supply chain. But just having the data is meaningless if you don't put it to use. As with all business projects, start by thinking about your goals. From there, find the solution that will help you achieve those goals. Luckily, the IoT industry is growing by leaps and bounds, and it shows no sign of slowing down.