In a bid to take on Amazon in the competitive online grocery market, US grocery chain Kroger recently announced that they will be building a high-tech robotic warehouse in Cincinnati.
Kroger has partnered with UK online grocer Ocado for the project. This is the first of 20 high-tech warehouses (or "sheds") planned for the US in a bid to edge out Amazon and Walmart and become America's top online grocery delivery service.
E-commerce have changed the way people shop. With just a few clicks, customers can find exactly what they're looking for, place an order and pay for the order—without ever setting foot in a store. The term "Amazon Effect" refers to Amazon's effect on e-commerce, which had led to customers (in both B2C and B2B) demanding lower prices, shorter lead times and better service from all vendors.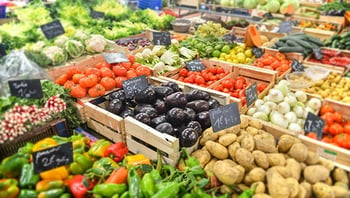 Online grocery delivery is still a relatively untapped market. In the UK, online deliveries account for about 6% of total grocery sales: in the US, they account for around 2%. Some reasons for this include the perishable nature of grocery items, and the low profit margins on groceries compared to other retail goods.
Ocado is known for the innovative robotics used in their warehouses to process and pack food orders. Kroger hopes that Ocado's innovative technology will help them dominate the market.
"Ocado's 'sheds' house hives of robots that pick and pack groceries. The company's newest machines can pull together a 50-item grocery order in as little as five minutes — potentially slashing Kroger's labor costs at a time when US grocers are looking for ways to profitably deliver milk, eggs and other necessities to customer doorsteps."
But will these highly efficient robots put humans out of work? According to The Verge, who visited one of Ocado's UK warehouses earlier this year, the answer is no:
"Nothing stumps a robot quite like a bag of oranges. They just can't deal with it. The bag moves in too many weird ways, there are no obvious bits to grab hold of, and if you squeeze too hard you end up with orange juice instead."
This is why Ocado's warehouses employ hundreds of humans in addition to their robots. In fact, Kroger predicts that the Cincinnati warehouse will create more than 400 new jobs.
The Kroger/Ocado announcement shows that in order to battle the Amazon Effect, manufacturers and retailers will need to adopt new technologies that help them work faster. But, even with the most advanced robotics, there's nothing on the market that can replace the common sense and problem-solving skills of human workers.
Learn more about Industry 4.0 and the Amazon Effect in our shop floor guide!