So far, most of the words I've written in this blog have been directly from my perspective. But in a company with as much competence and experience as Novacura, there are a lot of interesting anecdotes and knowledge that should be brought up.
So, I managed to steal some time with a very busy man: Sales Manager Östen Westman.
After studying computer science, Östen has been actively working with IT since 1988. Over those 31 years, he's made his way from Developer to IT Team Lead, IT Sales and IT Project Manager.
As with many Novacura employees, Östen came to us from IFS. He was there to see IFS grow from 300 employees in 1995 to 3500 employees just 3 years later. This is also when Östen took a career change from development to working more strictly with implementations and project management. In 1997 he was team leader for parts of the workforce existing in Novacura. Not knowing then what would come in the future.
Why does he like working at Novacura?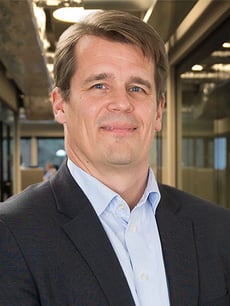 "At Novacura you get to work, for real. We don't just talk about digitalization or Industry 4.0: we are part of building just that every day. And the portfolio of customers is amazing, not one boring day. We are a bunch of brave individuals and within our open culture we spread that towards our customers as well."
After talking about the fast pace of the company's evolution, he also mentions that Novacura is the type of company that will need to have a stable growth in the future as well. In this kind of IT segment with an innovative product, the competition will force us to be constantly ready for the challenges ahead.
What's the most interesting project he's ever worked on?
"What can be more interesting and fun than to be part of a unique project starting from zero. Northland resources now Kaunis Iron took me up to a wet marsh in the north of Sweden painting the picture of what should be. Now standing there, 10 billion SEK later, there is a fully functional mine. That business opportunity transformation supported by our knowledge in IT projects is what really makes a lot of rough days much easier."
What does he consider to be his unique competence and/or main skill?
"I have had the task many times to jump into critical phases of a project with the aim of passing deadlocks and finalizing the project in the best possible way."
What is the coolest, most innovative use of Flow he has seen so far?
"When it comes to Flow implementations and how Flow has played a major part as innovators and digitalization engine, I must say Jämtkraft. We said that we were going to make their field personnel mobile. They couldn't even see it themselves. But once they saw the possibilities of Flow, we together created a really good solution making the life so much easier for their field personnel. This also helped the customer to see the possibilities in Flow, and as we speak, there are several more projects in the pipe."
Does he have any example where IFS/Flow has been part of transform a business dramatically and automated their processes?
"We have multiple success stories where we have exceeded the customer's expectations.
One interesting example is a portal we created for a customer, consisting of a variety of functions such as viewing work orders and handling documents (agreements, instructions etc.).
Contractors and clients could use the portal to track the progress of a case, and this helped simplify many steps of an otherwise heavy invoicing process. A process of otherwise many administrative and communication steps would have slowed down the business. The solution didn't limit the user, instead it created possibilities of placing the time where it was actually needed.
So this digitalization and automation reduced lead times, administrative costs and paper waste."
-----
Through the eyes of a senior sales managing Novacurian, we can learn about our diverse customer base but also we can hear of the future where Novacura fits into more and more customers' journeys to becoming better at what they do. Even though it is a competitive market, I am certain that Novacura has what it takes to establish itself as a go-to partner for our potential customers.
Thanks for talking with me, Östen!