When your most experienced workers retire, they're not just leaving a gap in the schedule: they're creating a gap in your knowledge base.
According to a 2015 report by The Manufacturing Institute, "growth and a coming wave of baby boomer retirements mean that manufacturers are expected to need to fill upwards of 3.4 million jobs by 2025."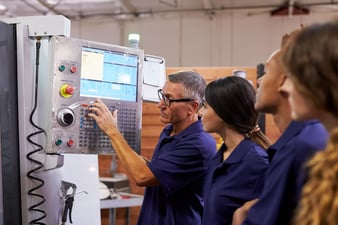 The Institute has estimated that, at current rates, only about 1.4 million of those jobs are likely to be filled, leaving a gap of 2 million manufacturing workers.
These un-filled manufacturing jobs can lead to two dangerous consequences:
Unqualified and/or poorly trained workers on the shop floor
Loss of work due to lower production levels
Manufacturers are stuck between a rock and a hard place. They need new, younger workers to maintain production levels—but can't find workers to fill the open positions. And they need the knowledge and experience to train these new workers—but the people with that knowledge are retiring in record numbers.
So, what can you do to keep knowledge and skill in your company even after your most experienced workers retire?
Download our free guide, The Three Biggest Issues on the Shop Floor—and How to Fix Them.
You'll find a variety of solutions, big and small, to help tackle some of the biggest problems you're facing on the shop floor today. There are solutions for workforce management, adopting industry 4.0 when you have legacy technology, and dealing with increasing customer demands without breaking the bank.
The guide is 100% free, so get your copy now!